Around one third of people with diabetes suffer with DSPN, defined as symptoms and/or signs of peripheral nerve dysfunction in people with diabetes once other causes have been excluded. Up to 50% may be asymptomatic, but 13–26% have painful DSPN, with classic symptoms of pain, paraesthesia and numbness especially in the feet and calves, often worse at night, interfering with function, quality of life and sleep.
The authors of the consensus highlight that diagnosing DSPN is not just about preventing foot ulceration, since decreased monofilament sensation correlates with increased risk of cardiovascular morbidity and mortality. DSPN remains poorly diagnosed and undertreated, and current guidelines for painful DSPN management make inconsistent recommendations and were thus causing confusion. This provided the rationale for the creation of concise, comprehensive, practical and internationally agreed recommendations, including algorithms, on screening, diagnosis and management. A Delphi process was used to reach agreement, whereby the global group of 14 diabetologists and one neurologist voted on a series of statements prior to a consensus meeting at which the statements and the evidence base were discussed. Further polls were conducted following the meeting to establish consensus on the fine-tuned statements and algorithms.
Screening and diagnosis
Key take-home messages in the report include:
50% of people with DSPN do not report symptoms, so it is important to ask about painful symptoms (including burning, stabbing, lancinating pain, allodynia and hyperalgesia) and non-painful numbness symptoms, including paraesthesia, tingling, ant-like sensations on skin and ataxia.
DSPN can occur in pre-diabetes.
Neuropathic pain symptoms are often worse at night and may interfere with sleep, function and quality of life. Use validated questionnaires and pain scores to document severity and progress.
Small and large fibres may be damaged in parallel. To assess large fibre function, use vibration and the 10-g monofilament test. To assess small fibres, use temperature discrimination and pinprick tests.
10-g monofilament can be used for screening – on the dorsum of the great toe for diagnosing DSPN and on the sole of the foot to identify ulceration risk.
Suspect causes other than diabetes if: predominant motor symptoms; asymmetry; rapid development; progression after optimising glycaemic control; mononeuropathy or cranial nerve involved; symptoms in upper limbs; or other atypical signs and symptoms.
Differential diagnosis includes alcohol, uraemia, hypothyroidism, monoclonal gammopathy or paraproteinaemia, B12 deficiency or cancer. To exclude other causes, use tests (e.g. vitamin B12, myeloma screen, renal function, thyroid function, full blood count, magnesium, liver enzymes, with or without vitamin D).
Neuropathic pain may occur with no other signs or symptoms of DSPN.
The sensory examination section provides detailed guidance on where and how to test, and how to evaluate results.
Referral to neurology may be needed.
DSPN management
The consensus recommends a three-pronged approach to treatment:
Lifestyle modification, optimal glycaemic control and multifactorial cardiovascular risk intervention.
Drug treatments focusing on underlying mechanisms (alpha-lipoic acid and benfotiamine).
Symptomatic treatment of neuropathic pain aiming at reducing pain and improving function, sleep and quality of life.
The consensus reminds clinicians that there is no evidence that tight glycaemic control reduces risk of development of DSPN in people with type 2 diabetes, although intensive insulin therapy in type 1 diabetes may decrease development.
The multiple pathogenic processes believed to be involved in DSPN are summarised and there was 93% agreement that treatment with alpha-lipoic acid (IV or oral) or benfotiamine may be effective in some people, but, currently, neither of these are licensed by the FDA or EMA.
There was 100% agreement that gabapentin or pregabalin should be first-line treatment for painful DSPN and that dose titration is more convenient with pregabalin. One panel member disagreed that duloxetine and amitriptyline should also be first-line for painful DSPN, and that venlafaxine can be considered if duloxetine is not tolerated, with doses of the three antidepressants lower for neuropathic pain than those used in depression. Tramadol is considered as second-line therapy, with oxycodone or tapentadol, if not effective. Strong opioids are designated as third-line therapy, with the risk of abuse, misuse, dependence and tolerance to be evaluated at the start of treatment and regularly if used in the longer term. Topical capsaicin cream can be tried, and the more effective capsaicin 8% patches should be considered a third-line option. These recommendations are summarised in the algorithm below.
A summary of the evidence base for the drugs used for painful DSPN is provided along with practical guidance on the use of treatments, including:
Titrate doses based on efficacy and side effects.
Agree lack of efficacy only after 2–4-week trial.
Clinically relevant pain relief is 30­–49% reduction, with ≥50% classed as robust and likely to improve quality of life.
Combinations of treatments may offer benefit, as only 50% of people with painful DSPN respond to monotherapy, but consider interactions.
Vitamin B12 and vitamin D deficiency should be treated, if present. Decreased magnesium levels are associated with diabetes and DSPN, so supplementation may be useful, but further studies are needed to confirm.
Consider referral for spinal cord stimulation in those with pain refractory to treatment.
Although remote consultations have had a place in evaluation and management of DSPN during the COVID-19 pandemic, the expert group highlighted that since 50% of DSPN is asymptomatic, clinical examination is needed and face-to-face foot assessments should be offered whenever possible.
The panel concluded that the key limitations were that some geographical areas, such as South America and Australia, were not able to participate in the consensus and that not all topics could be discussed or agreed. They called for the therapeutic algorithms to be regularly updated to ensure that the most efficacious treatments are used in routine clinical practice.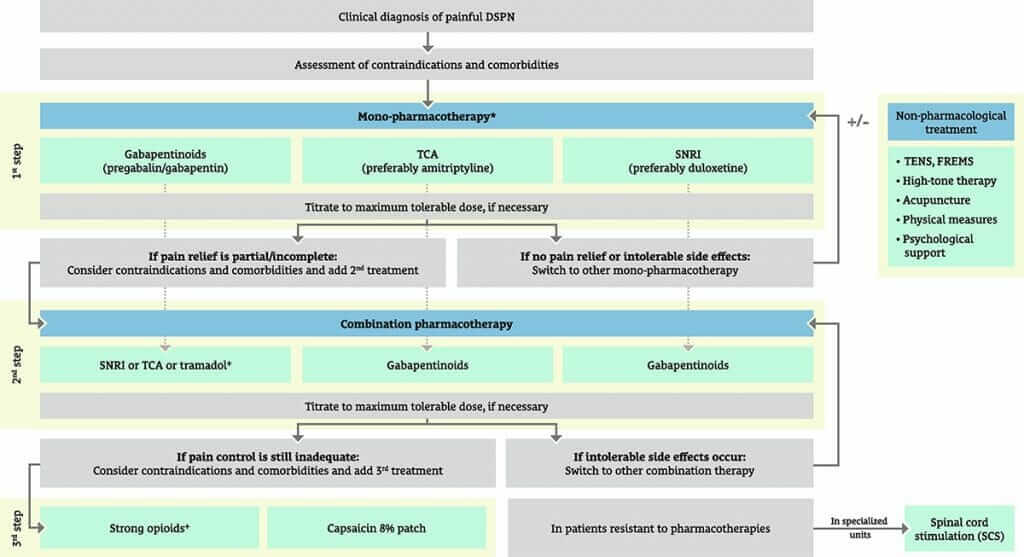 To read the report in full, click here.
The algorithm appearing here is unchanged from the original and is being reused under a Creative Commons licence.