Although cardiovascular (CV) problems have been well described during acute COVID-19 infection, CV complications following the acute infection have not yet been clearly documented, since previous studies only looked at those hospitalised, explored a small range of CV events and had short follow-up times. The study by Xie and colleagues (2022), using the US Department of Veterans Affairs healthcare database, identified 153,760 people with acute COVID-19 infection between March 2020 and January 2021 who survived at least 30 days, and identified risk of a range of new, pre-specified, CV events occurring in the 12 months post infection, with data collated depending on the severity of the acute infection and whether hospitalised or requiring intensive care input.
The risk of the pre-specified CV events in those suffering COVID-19 were compared with the risk in the two control cohorts not known to have had COVID-19 – a contemporary cohort of more than 5.6 million controls and a historical cohort of more than 5.8 million controls from 2017, prior to the COVID-19 pandemic. The absolute excess burden of CV conditions per 1000 people at 12 months was calculated by comparing estimated incidence rates in the COVID-19 and contemporary control cohorts.
Risks and 12-month excess burdens for a selection of the conditions are shown in Table 1. The increased risk was demonstrated irrespective of age, sex and a range of CV disease risk factors (e.g. obesity, hypertension, CKD and hyperlipidaemia), with or without diabetes, even in those with no known CV disease prior to COVID-19 and, importantly, including those not hospitalised during the acute infection. Risks and excess burdens were consistent when compared with the historical control cohort rather than the contemporary cohort, suggesting the increased CV risks relate specifically to infection with COVID-19 and not to any other condition associated with the pandemic time period.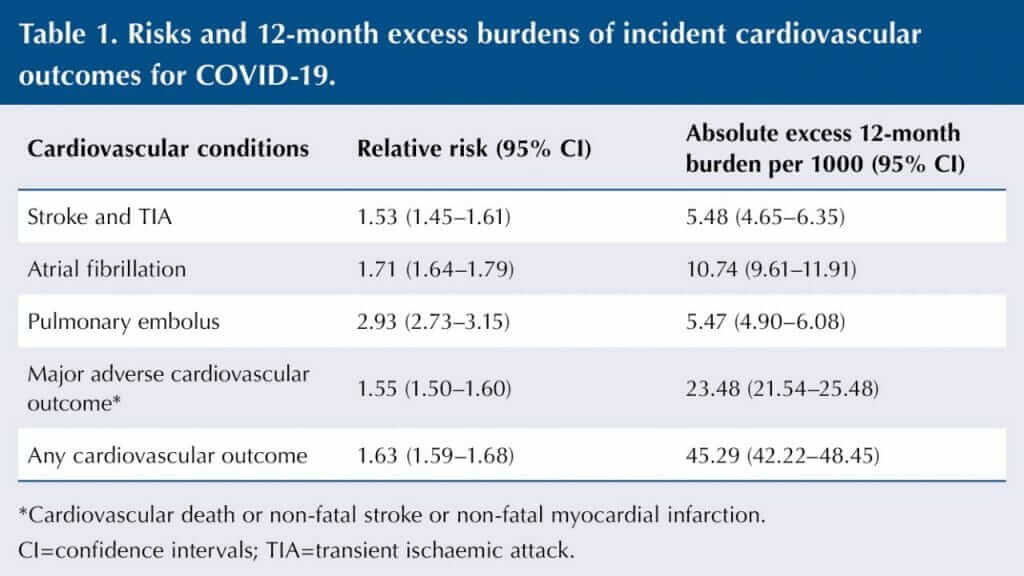 Of the COVID-19 cohort, 131,612 were managed in the community, 16,761 were hospitalised and 5388 were admitted to intensive care. When compared to the contemporary controls, there was a graded increase in both the risk and the excess burden at 12 months from non-hospitalised, through hospitalised, to those requiring intensive care. This occurred in each of the pre-specified CV conditions.
Multiple possible mechanisms have been postulated, including persisting damage to cardiomyocytes or endothelial damage, complement-activated changes in coagulopathy, dysregulation of the renin–angiotensin–aldosterone system or persisting increased immune response.
As with the similar paper examining the incidence of new type 2 diabetes (Xie and Al-Aly, 2022; discussed previously in Diabetes Distilled), although the excess burdens per 1000 people may initially appear small, when we consider the millions who have suffered COVID-19 in the UK, the excess burden on survivors and workload is likely to be very considerable.
Limitations of the study include the predominantly male, Caucasian cohort in the Veterans Affairs database. Some of the contemporary cohort may have had undiagnosed COVID-19 infection, but this would be expected to reduce, rather than increase, the comparative risks and burdens between the COVID-19 and control cohorts. The evolving COVID-19 virus variants and impact of vaccination may affect the likelihood of CV outcomes following COVID-19 infection.
We already aim to optimise CV risk in people with diabetes, so should consider previous COVID-19 as an additional CV risk factor in future.
Click here to read the study in full.