The European Association for the Study of Diabetes (EASD) and the American Diabetes Association (ADA) have launched their updated Consensus Report on the Management of Hyperglycaemia in Type 2 Diabetes, which updates the previous consensus report (2018) and its update (2019). The latest iteration has an increased focus on managing weight loss, on person-centred care and on equity of care. In this short commentary, I outline the changes to the guidance.
What's new?
• Updated algorithm: Use of glucose-lowering medications and lifestyle in type 2 diabetes management. Features two sections:
A cardiorenal risk reduction section for high-risk patients, including those with or at high risk of atherosclerotic cardiovascular disease; heart failure; and chronic kidney disease. Treatment recommendations focus on SGLT2 inhibitors and GLP-1 receptor agonists, independent of metformin use.
A section on achieving and maintaining glycaemic control and weight management goals, focusing on drug efficacy (and including metformin) for the former and on lifestyle benefits and efficacy of weight-reduction drugs for the latter.
• Use of the term "organ-protection" when using SGLT2 inhibitors and GLP-1 RAs for cardiorenal benefits.
• Increased focus on weight reduction, giving it equal status to glucose management in the treatment algorithm.
• More detailed guidance on lifestyle and healthy behaviour, including discussion of dietary patterns, time-restricted eating, physical activity and sleep.
Includes a figure (shown below) summarising the importance of 24-hour physical behaviours, including Stepping, Sweating (moderate-to-vigorous activity), Strengthening, Sitting (broken up by movement) and Sleep.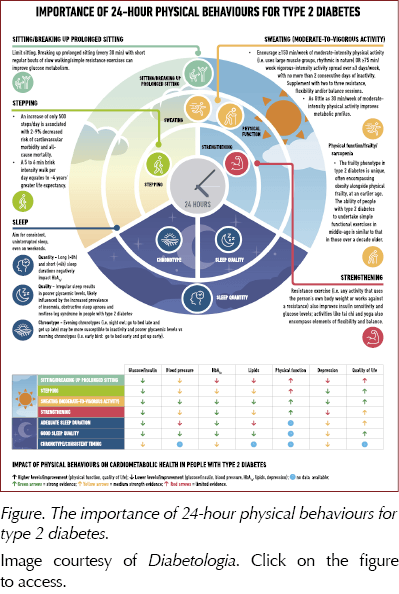 • Updated summary of the cardiorenal outcome studies, including early data and updated meta-analyses on the potential benefits of using combinations of SGLT2 inhibitors and GLP-1 RAs. Network meta-analyses comparing the efficacy of different drug classes are also included.
• Specific guidance is outlined for older people, younger people, and those from different race and ethnicity groups, as well as summarising the impact of sex differences.
Practical tips for clinicians: Strategies for implementation
• Integrated care: Due to the life-long nature of the condition, aim for an integrated team and use technology where appropriate – know local resources.
• Language matters in all communications.
• Individualisation of care: Involve the person living with diabetes in all decision-making. Monitor and address inequity of care delivery and assess social determinants of health. Consider co-morbidities in management plans.
• Diabetes self-management education and support (DSMES): This is as important as drug treatments, so recommend to everyone. Know what is available locally and how to access; refer at diagnosis and at care transitions.
• Facilitate healthy behaviours and weight management: Ensure shared decision-making and agree goals; emphasise self-monitoring and review all data in consultations; discuss all aspects of hypoglycaemia in those taking sulfonylureas or insulin, ensure DSMES and medical nutrition therapy.
• Glucose-lowering therapies: Stay updated on efficacy and side effects of medications; identify and incorporate relevant co-morbidities; assess profile (younger, frail, cognitive impairment, social determinants of health); consider risk factors for adverse events; prioritise organ-protective therapies (SGLT2is, GLP-1 RAs, TZDs) if the person has or is at high risk of cardiorenal disease or non-alcoholic steatohepatitis.
• Avoid therapeutic inertia: Consider initial combination therapy, especially if HbA1c is >70 mmol/mol, in younger people and to avoid delay in access to cardiorenal protection; evaluate health behaviours, medication-taking and side effects at each visit; add therapies with complementary glucose-lowering actions; use fixed-dose combinations to reduce pill burden; de-intensify therapy as soon as appropriate (e.g. frail elderly, risk of hypoglycaemia).
• Insulin positioning: Consider a GLP-1 RA first; start with basal insulin; intensify in a timely way and titrate to the agreed fasting target; continue organ-protective glucose-lowering medications and metformin; ensure DSMES when initiating or changing to basal–bolus regimens.
• Technology: Consider continuous glucose monitoring if on insulin; adapt clinic system to support behaviour change with self-monitoring.
• Delivering improved care: Ensure continuing education activities for all team members; use a team-based approach; incorporate continuous quality improvement interventions.
New and updated figures and resources
Table 1: Summary of glucose-lowering medication characteristics, including clinical considerations.
Figure 2: Importance of 24-hour physical behaviours for type 2 diabetes.
Figure 3: Updated algorithm for use of glucose-lowering medications.
Figure 4: Holistic patient-centred approach in type 2 diabetes management – summarises and integrates the management recommendations from the whole document.
Figure 5: Place of insulin (including how to initiate and titrate).
Additional resources are included in the Supplementary Materials linked to the online versions published in both Diabetes Care and Diabetologia.