Both type 1 and type 2 diabetes are complex, demanding conditions to manage. On average, people with diabetes spend only three hours a year with a healthcare professional (HCP); for the rest of the year they manage their diabetes themselves (Diabetes UK, 2016). Unfortunately, each week in the UK there are 185 diabetes-related leg, toe or foot amputations. In addition, 30 people learn that their sight has been seriously impaired by diabetes, and people living with diabetes are twice as likely to experience depression as those without (Diabetes UK, 2020).
Provision of structured diabetes education to people living with type 1 or type 2 diabetes is an integral aspect of patient care (NICE, 2015a; 2015b). Diabetes education courses give people living with diabetes the knowledge, skills and confidence to successfully self-manage their condition. Attendance at structured education courses has been shown to improve key health outcomes, such as glycaemic control, quality of life and self-management skills. Courses are cost-effective in helping reduce the risk of diabetes-related health complications developing in the longer term (Diabetes UK, 2018).
People are more likely to attend a course if their HCP is positive and enthusiastic about the benefits of education, and explains that attendance is an "essential part of the patient's package of diabetes care" (Diabetes UK, 2016). Learning more about their condition could help them more effectively self-manage their diabetes and reduce the future risk of life-changing health complications (Diabetes UK, 2016).
Structured diabetes education courses delivered at level 3, are those that meet nationally agreed criteria, which include an evidence-based curriculum, quality assurance of teaching standards and regular audit (Diabetes UK, 2022a). Some areas offer their own locally designed structured diabetes education courses, such as the Advanced Diabetes Awareness and Management (ADAM) course provided in North & Central Bedfordshire to people who have been living with type 2 diabetes for longer than one year.
Many locally developed courses will have attained the Quality Institute for Self Management Education & Training (QISMET) certification. QISMET (www.qismet.org.uk) ensures a healthcare structured education initiative has defined relevant outcomes that can be demonstrated and achieved.
Different areas commission different combinations of structured education courses for those living with either type 1 or type 2 diabetes. Nationally recognised structured diabetes education courses include those listed in Table 1.
Unfortunately, attendance at structured diabetes education is frequently a missed opportunity in diabetes care (Diabetes UK, 2016). Fewer than 50% of people referred to the Bedfordshire diabetes education service took up one of the virtual educational options on offer during the COVID-19 pandemic, despite receiving two letters of invitation from the education team and many also receiving a personal telephone call from a member of the education team.
To encourage people to attend structured diabetes education, HCPs should aim to:
Promote the benefits of diabetes education courses.
Avoid using the term "structured education"; instead use words such as "course", "knowledge", "information" or "training".
Find out which courses are available locally and be familiar with referral pathways.
Arrange to observe a local diabetes education course.
If an individual states that taking time off work is difficult, and there are no suitable structured education options either out of hours or online, HCPs can provide a letter to their employer about the importance of structured education attendance. A template letter is available from the Diabetes UK website (Diabetes UK, 2022b).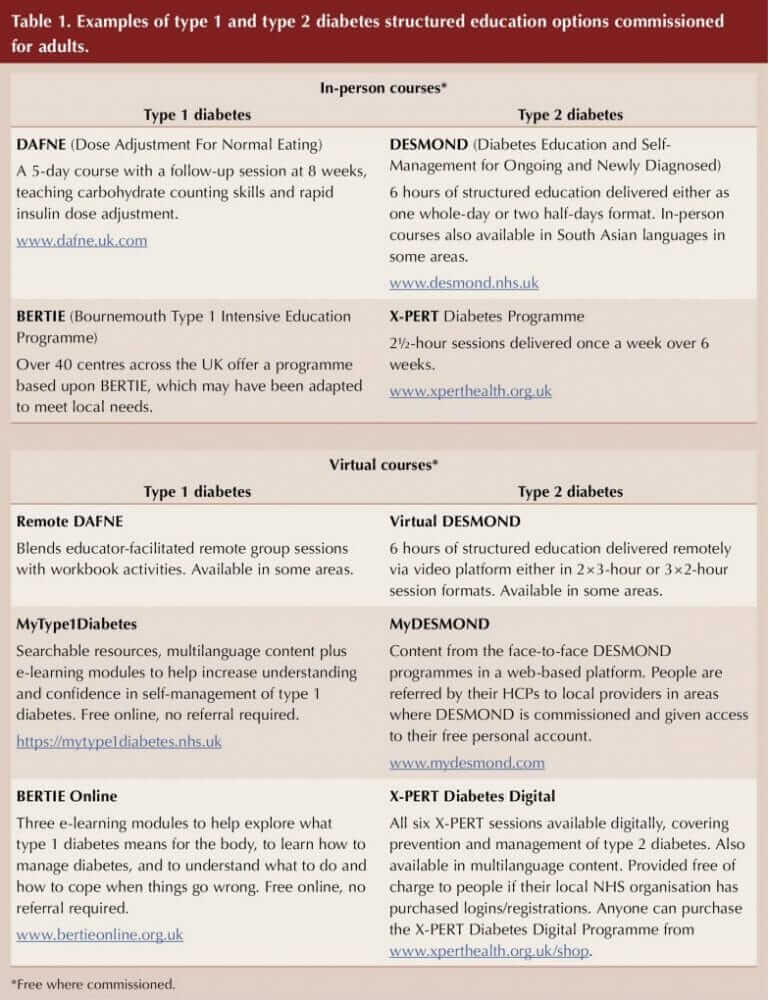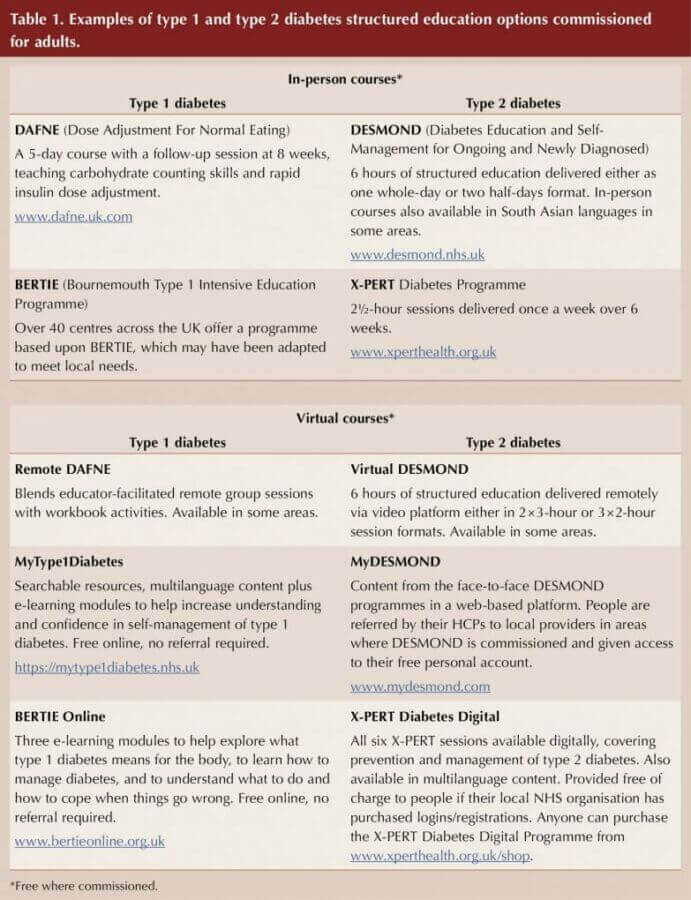 In-person structured education service moving to virtual delivery
In Bedfordshire, people newly diagnosed with type 2 diabetes are referred by their practice to the Bedfordshire diabetes education team. Before the pandemic, the Diabetes Education and Self Management for Ongoing and Newly Diagnosed (DESMOND) programme was offered to groups. Individuals of South Asian origin could opt to attend either a DESMOND group or a locally developed language-specific group education session.
The education team also provided a shorter 2-hour, one-to-one structured education session for people who are unable to attend group settings, such as those with a learning disability, mobility difficulties, or a hearing or sight impairment. Practice staff were provided with a clear structured education referral pathway and patient self-referrals were also accepted.
When the first COVID-19 lockdown was announced in March 2020, all face-to-face patient education sessions were cancelled. As the initial 3-week lockdown became an extended period, the team had to change the way in which diabetes education was provided, whilst working within the government restrictions.
Virtual structured education
Using material developed for the one-to-one session for structure and consistency, the team commenced providing 2-hour virtual diabetes education sessions for people by either telephone or video call. This was supported by an illustrated booklet produced in-house.
Following the national release of the virtual DESMOND slides, the team started delivering virtual DESMOND courses in early 2021 to groups of up to six people via Microsoft Teams over 2 or 3 weekly sessions.
Phoning patients to discuss the available virtual educational options improved service uptake. Some people were keen to accept the offer; others required some explanation and counselling.
Common responses from those declining to participate included: "I know a lot about diabetes, my mother had it"; "My wife has diabetes, we eat healthily"; and "I'm too busy to attend."
Participants are signposted at the end of their session to appropriate virtual or face-to-face local services for weight management and physical activity, and reliable online sources of health information such as Diabetes UK (www.diabetes.org.uk) and the British Heart Foundation (www.bhf.org.uk). Box 1 gives a selection of feedback comments from participants.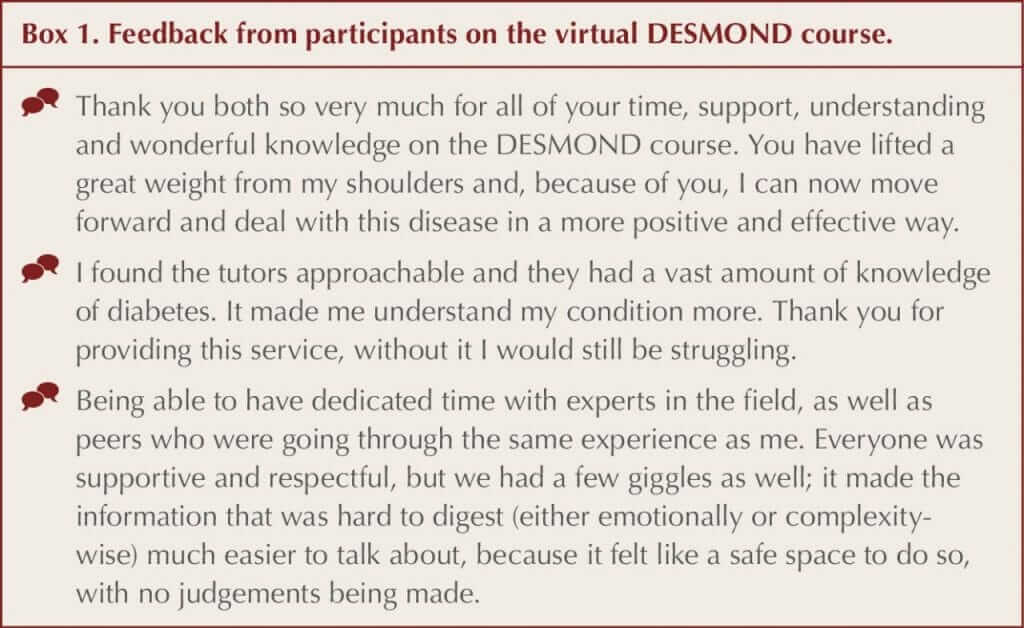 Plans for 2022
The team plan to continue to offer the virtual education options developed over the past two years alongside both face-to-face and virtual DESMOND courses, and one-to-one home visits with appropriate social distancing and hygiene measures in place.
The team's long-term vision is to ensure that all people in Bedfordshire who are newly diagnosed with type 2 diabetes are able to access structured education, either virtually or in person, that is appropriately adapted to their needs.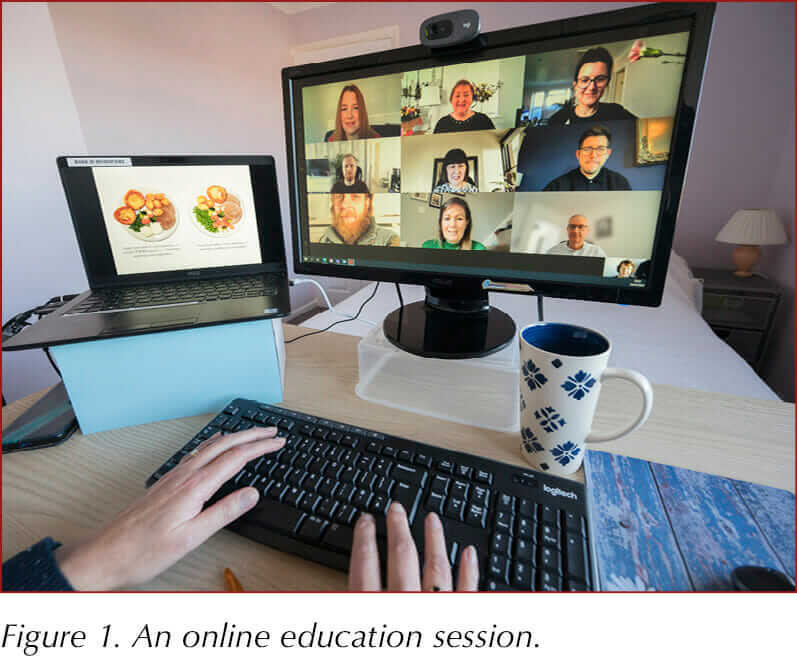 Acknowledgements
With thanks to our wonderful team of administrative staff: Maria Buonpane, Hannah Saddington and Trudi Williamson.