The European Association for the Study of Diabetes (EASD) and the American Diabetes Association (ADA) have today launched their updated Consensus Report on the Management of Hyperglycaemia in Type 2 Diabetes, which has an increased focus on managing weight loss, on person-centred care and on equity of care, as a result of feedback provided in response to the draft shared with delegates at the ADA conference in June 2022. It updates the previous consensus report (2018) and its update (2019), and this new document will be published in both EASD's journal Diabetologia and the ADA's journal Diabetes Care to coincide with the conclusion of the presentation at the EASD meeting in Stockholm.
The update explores in detail how social determinants of health (SDOH) impact on effective management of hyperglycaemia and how equity of care can be improved. The person-centred focus is strengthened with guidance on language use, shared decision-making with people with diabetes involved in all aspects of care decisions, and encouragement to be involved and take greater responsibility for their own care (Figure 1). Clinicians are reminded to take into account personal circumstances when planning and delivering individualised care. Patients and healthcare professionals are encouraged to adopt more aggressive care, including combination therapy from the time of diagnosis, and to ensure regular reviews and avoid therapeutic inertia.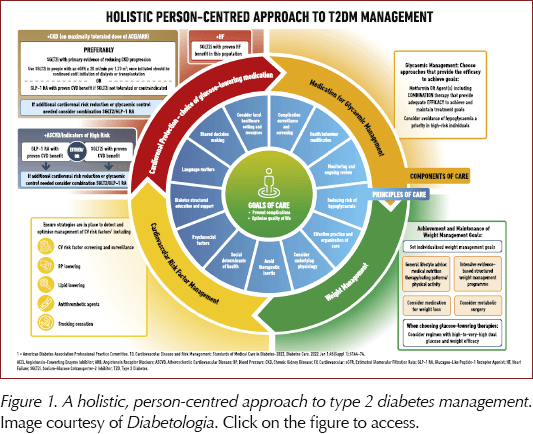 There is an increased focus on the importance of weight loss in managing hyperglycaemia, including review of the impact of medications, both glucose-lowering and those specifically studied to assist with weight loss (Figure 2). There is a holistic approach to lifestyle, involving guidance on nutrition, physical activity and, for the first time, a recommendation to achieve regular patterns of 6–9 hours' sleep each night. The physical activity guidance is detailed, and includes not just the usual recommendations to achieve 150 minutes' moderate-to-vigorous physical activity per week combined with 2 sessions of resistance exercise, but also to break up sitting/sedentary time at 30-minute intervals with light exercise or resistance training, and to undertake 500 extra daily steps.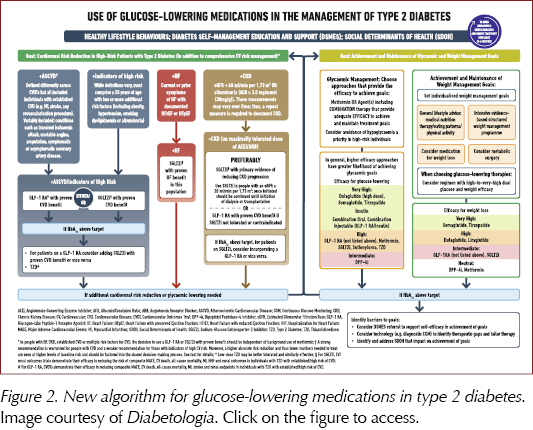 The Consensus is updated with evidence published since 2018, including studies of SGLT2 inhibitors, GLP-1 receptor agonists (including higher doses and oral GLP-1 RAs) and the new GIP/GLP-1 RA class, as well as the combinations of GLP-1 RAs with insulin. The benefits of these drugs on atherosclerotic cardiovascular disease, heart failure and chronic kidney disease are summarised, and guidance on their use has been updated to add clarity.
The update has been prepared by an international committee of experts that includeProfessor John Buse (University of North Carolina School of Medicine) and Professor Melanie Davies (Leicester Diabetes Centre) and their colleagues.
The updated Consensus Report is available at https://doi.org/10.2337/dci22-0034.
Click here to read Pam Brown's analysis of the changes to the guidance.