In March 2020, the UK was facing the start of the severe acute respiratory syndrome coronavirus 2 (SARS-CoV-2) pandemic (COVID-19) and the first national lockdown was imminent. Information was emerging about the potential adverse impact this virus could have on adults with diabetes, yet there was a paucity of information on the effects of COVID-19 on those under 18 years of age. This caused significantly increased anxiety among parents and carers of children and young people (CYP) with diabetes. Clinical teams were inundated with queries from parents about school, isolation and risks around managing illness with COVID-19. Unfortunately, however, an increase in COVID-19 admissions meant that diabetes specialist teams were being redeployed to other areas of the hospital. In addition, clinicians were being exposed to COVID-19 or needing to isolate due to close contacts. This impacted paediatric teams by leaving fewer staff members to find the correct information or answer the queries. Urgent steps were required to identify a way to provide rapid, reliable, evidence-based information and reassurance for both people with diabetes and paediatric diabetes teams.
This article describes how the Diabetes 101 Twitter account was created, the phases of implementation, novel methods for education and how it changed and developed in response to engagement from the diabetes online community.
Developing the team
There is a large and established diabetes online community (DOC) on Twitter, including adults with diabetes, parents of CYP with diabetes and diabetes healthcare professionals (HCPs), who utilise Twitter for sharing information on diabetes topics such as diet, technology and COVID-19 (Thomas et al, 2021a). In March 2020, HCPs engaging with people with diabetes (PWD) were struck by the level of anxiety and appetite for reliable information that was being voiced within the DOC.
Twenty HCPs from across the UK contributed to the development of the @_diabetes101 Twitter account. Disciplines represented within the team included medicine, nursing, general practice, pharmacy, dietetics, eye care, psychology and paediatrics. All are experts in their field with an active Twitter presence. The team includes several HCPs who live with diabetes themselves or who are parents of children with diabetes. The account is curated in the professionals' own time on a voluntary basis. Hosting the account primarily on Twitter enabled HCPs to provide free and easily accessible support to users across the UK and around the world. The account aims were to provide reactive and proactive advice, educational input and social support in real time, during the pandemic.
Phases of implementation
The Diabetes 101 project was structured in a number of phases with distinct goals to match the predominant population concerns, and to complement demands on the team's clinical job roles:
Phase 1: Provide clear information and contain anxiety in the "preparation" phase of COVID-19 and lockdowns.
Phase 2: Provide a sense of stability and entertainment in the "active" phase of COVID-19 and during lockdowns.
Phase 3: Provide ongoing support and education in the "ongoing" phase of COVID-19 and lockdowns.
Communication matters
Every communication from the Twitter account was written in line with the Language Matters guidance (NHS England, 2018) to ensure accessibility and acceptability to all PWD.
Greater inclusivity is achieved through the functionality of Twitter as users can choose their own text size and colour schemes, or use the platform with a voice reading interface. It also offers a translate function, so tweets from the account could be understood by users from around the world. This demonstrates that using an accessible platform can provide a much wider reach for important diabetes education, much of which would not have been accessible via routine diabetes services.
Phase 1: Clear and practical information
During phase 1, the team focused on providing a constant daily presence, with availability for questions, co-ordinating shared activities and building a strong sense of online community. The account shared essential informational resources aimed at parents and carers, such as the Association of Children's Diabetes Clinicians sick day rules for children (Ng et al, 2018). The account also developed daily rituals to build a sense of routine and shared experience (for example, a "morning check-in", an "afternoon tea" and an "evening gratitude"). A number of initiatives were aimed at CYP and their carers to inform and entertain. Many parents and carers of CYP shared positive moments of their child's day, including achievements of first injections or trying new foods. Competitions were created aimed at involving CYP, including art work (see Figure 1), den building, kitchen discos and recipe sharing, thus providing activities to entertain and involve CYP in the account activities through parents and carers.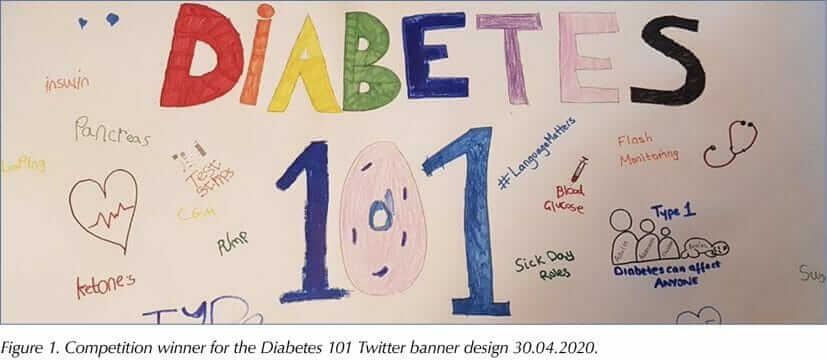 Phases 2 and 3
During phases 2 and 3, the team developed innovative, interactive and novel ways of sharing information and delivering education via infographics, quizzes, "tweetorials" and a Twitter activity campaign, including a virtual exercise club #RunDMC101 and #Move101. Topics were agreed by the HCPs within the Diabetes 101 team and each person took responsibility for the production of one topic, with support from other core members. The aim of content was to update knowledge, signpost to reputable websites for further learning and self-test understanding. Each session was analysed for engagement and impressions (see Table 1 for the glossary of terms), comments and feedback from participants to inform future sessions' content and delivery.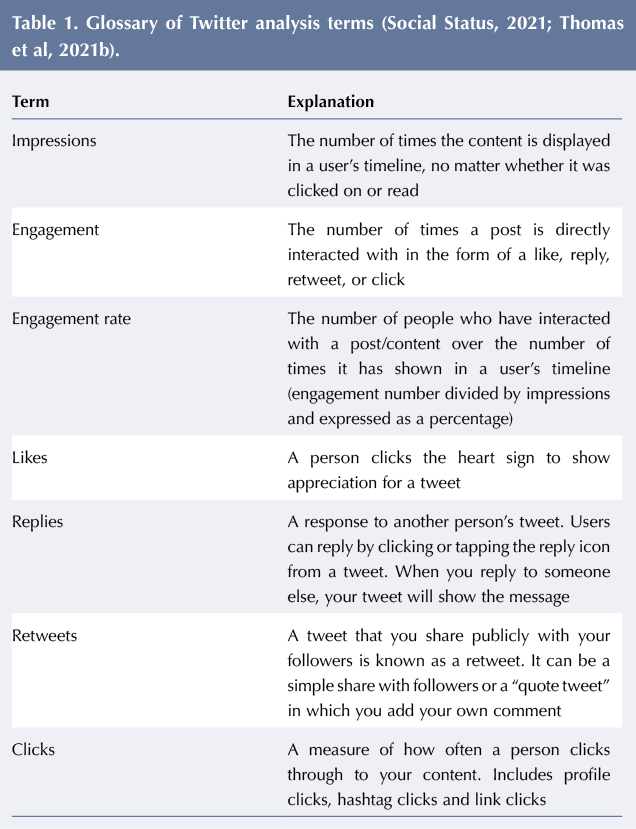 Quizzes
Quiz formats were designed to test knowledge and understanding of each topic. Polls were created via Twitter or a "free text" Tweet encouraging audience participation. Answers and signposting to further learning were delivered at the end of the hour. Members of Diabetes 101 were also online replying to tweets and engaging with answers during the hour. Five quizzes have been delivered (Table 2) with elements for CYP in the "Easter Bank Holiday Quiz" and the "Food Quiz" in May. The impressions and engagement rate for these two quizzes were 183,954 and 7.1%, respectively.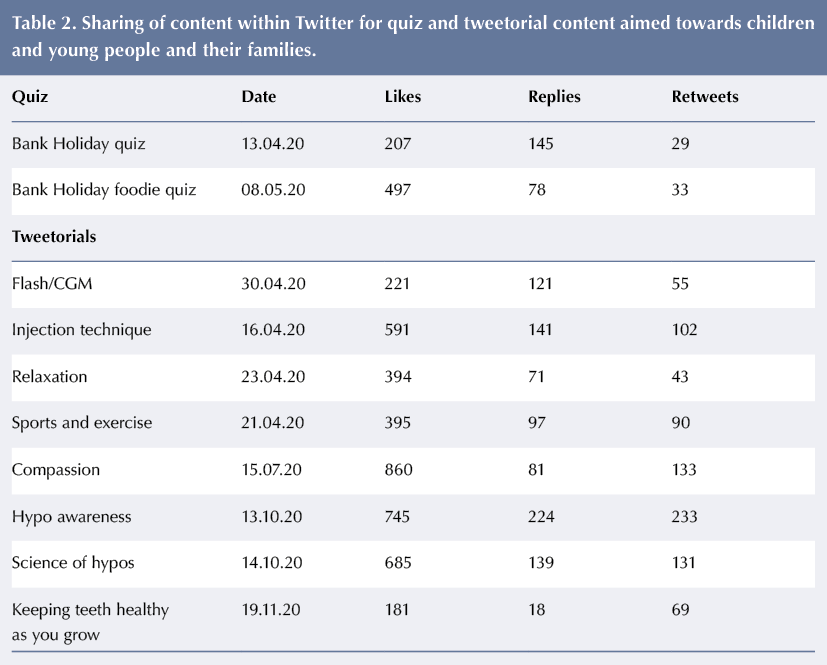 Tweetorials
A tweetorial is a brief educational presentation delivered via Twitter with elements of live interaction, such as audience questions, via polls or tweets (Thomas et al, 2021b). Eight tweetorials included specific information for parents and carers of CYP. These included information on flash glucose monitoring and other types of CGM; injection technique; relaxation, sports and exercise; compassion; hypoglycaemia and hypoglycaemia awareness; and keeping your teeth healthy. The impressions and engagement rate of these eight tweetorials were 616,185 and 7.5%, respectively.
Infographics
Infographics are a simplified guide to various aspects of diabetes care (hypoglycaemia, eye health and psychological techniques), or understanding processes linked to research, such as confidence intervals and hazard ratios. Infographics created by the team were shared across UK diabetes services, primary care and third sector networks. They were also shared around the world, including in Australia, where one of the infographics, Managing Worry and Diabetes, was translated into 26 different languages and made into a national TV campaign (Stewart and Augarde, 2020).
Beyond Twitter
The team recognised that not everyone uses Twitter, so to increase accessibility created a YouTube channel and a website. The website (www.diabetes101.co.uk) was launched in January 2021 and permanently hosts the tweetorials, videos, infographics and account information. Diabetes 101 held an online conference via the YouTube channel and hosted multiple Zoom calls with its target audience.
Engagement
The Diabetes 101 account has received over 13 million impressions, with an engagement rate of 2.5% to date. Five quizzes and 22 tweetorials have been delivered on the account, receiving over 1 million Twitter impressions, with some individual slides gaining over 15,000 impressions. The videos on the account's YouTube channel have been viewed more than 6,500 times, and the website has received over 6,000 visitors, with 960 (16%) of visitors going on to the "Tweetorial" page to download educational presentations.
The Bank Holiday quiz at Easter had questions within the main quiz aimed at CYP, and the food quiz was written specifically for CYP. The most popular quiz for engagement was the first Bank Holiday quiz (Figure 2). The food quiz had a significant number of likes, although fewer replies than the first quiz.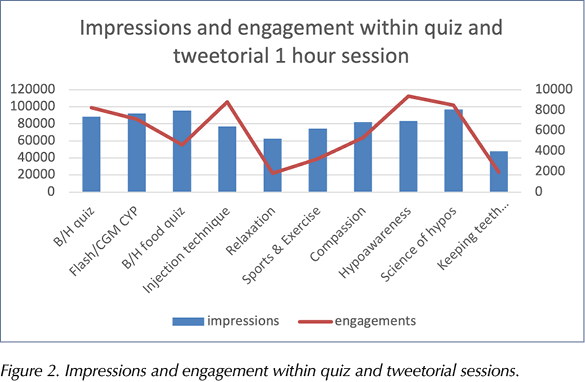 "Hypo awareness" was the highest tweetorial for engagement, although both this and the Bank Holiday quiz also included content for adults with diabetes, as well as CYP. Compassion was the most liked tweetorial (Table 2) and the two tweetorials about hypoglycaemia were the most retweeted. It can therefore be hypothesised that those individuals felt the content important to share with their followers. The least popular tweetorials for engagement were toothcare and relaxation. Fewer retweets were seen for relaxation, flash/CGM for children and toothcare.
User feedback
During the progress of the account, the development group continually sought feedback from PWD asking what they found useful or did not like, and what education sessions they wanted. Engagement was reviewed by the team and content refined and altered based on the level of impressions, retweets, likes and engagement. Daily team discussions about the feedback occurred and the account activity was continually monitored to obtain real-time usage data to see what worked and what did not. As a result we found that quizzes with polls proved popular, as PWD like them to recap and remind them of information.
A survey of the demographics of the @_diabetes101 account showed that more adults living with diabetes access the account than parents and carers of CYP. A week-long survey of account users (currently awaiting publication) was undertaken in May 2020 to evaluate the account demographics and their opinions on the account. A total of 459 responses were collated, representing 10% of the account's 4813 followers (as of June 2020). There was less representation from parents and carers (13%, n=60) compared to people with diabetes (76% n=348). A small proportion of respondents (1.5%, n=7) identified themselves as "other", primarily due to fitting into multiple categories (for example, a person with diabetes who is also the parent of a child with diabetes).
The whole community (adults, CYP and parents) found the account fun, informative and positive (Figure 3). When asked about their primary reason for accessing the account, most respondents (45.5%) indicated that they were looking for accurate information and the vast majority of account users (92%) indicated that they would recommend the account to friends, family, other PWD and diabetes HCPs.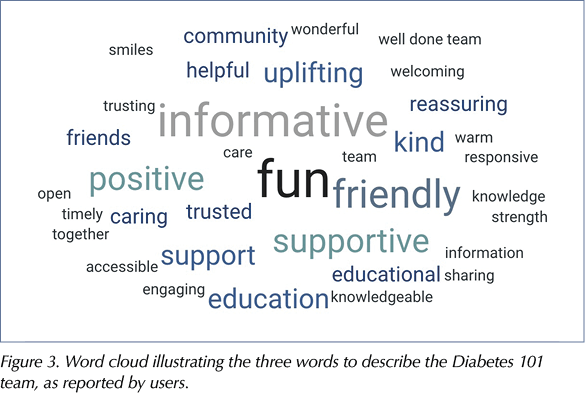 Five (4.6%) responses from the additional comments (n=109) were clearly identified as being from parents (Box 1). They found the team members were credible, expert and reassuring. The parents felt including CYP in the content and education was useful, and they found the delivery interactive and inclusive for their children. It was also noted, however, that the platform used was unlikely to be accessed by a teenager.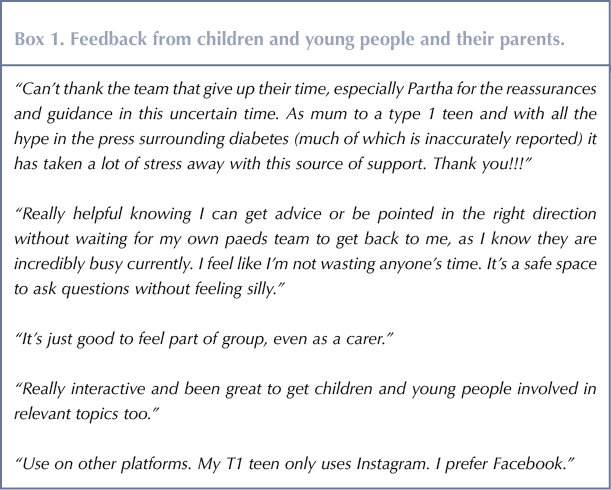 Discussion
COVID-19 has been the widest-reaching communicable disease in decades, and PWD have been adversely affected compared with those without diabetes, although, reassuringly, CYP were less seriously affected than adults (Holman et al, 2020).
The @_diabetes101 account sought to be inclusive to all age groups from the outset. This included a number of tweetorials and quiz sessions aimed specifically at CYP and parents or carers. In total, the CYP-focused sessions achieved over 800,000 impressions, with an engagement rate of 7.4%. This is a high level of engagement (Wadhwa et al, 2017; ContentCal, 2020; Scrunch.com, 2021), even though social media accounts include an age limit of over 13 years. The topics of education directly aimed at CYP and parents received a lower number of impressions; however, they did achieve a higher level of engagement compared to the sessions that were aimed at adults (over 1 million impressions and 5.4% engagement rate). This was not unexpected as there are fewer CYP with diabetes (27,653 CYP with type 1 diabetes in England and Wales [Royal College of Paediatrics and Child Health, 2021]) than adults (281,450 adults with type 1 diabetes in England and Wales, [Diabetes UK, 2020]). Globally, CYP are less likely to utilise Twitter as a form of diabetes support, with 6.6% of users in the 13–17 years age group (Statista, 2021a). Instagram was the most popular social media platform used by children (12–15 years) in 2020, closely followed by SnapChat and Facebook, and then WhatsApp (Statista, 2021b).
In general, CYP feel happy to access accounts that do not require logins or passwords and it is important that CYP feel safe and secure, and that content is reputable and kept up to date (Nordfeldt, 2013). The authors acknowledge that engaging CYP who access the account to ascertain their views on education content, delivery style and preferred platform would be beneficial.
While the use of social media in health research is growing, utilising it for education, community building and peer support, especially for the target audience of CYP, parents and carers, has been limited. Review of the literature has found only three studies using social media for patient education and care, and one study for information health management (Attai et al, 2015; Theiss et al, 2016; Ansari et al, 2020). These studies were not aimed at CYP or their parents and carers. Therefore, further studies are needed to understand the impact of providing education via social media for this specific target group on health and wellbeing, as well as psychological distress outcomes.
In addition to providing education, social media platforms can be used to build communities for peer support. Offline peer support has been reported to be beneficial to CYP with diabetes, potentially improving diabetes self-care behaviour (Wysocki and Greco, 2006), although other analyses show the effects are mixed (Palladino and Helgeson, 2012). Provision and effectiveness of online support with other CYP with diabetes within these age groups requires further study. This research should also explore the use of social media platforms that are more likely to have higher levels of CYP usage, such as Instagram, SnapChat and TikTok.
There are limitations of using social media to provide education. There are groups who may be digitally excluded from this type of education and they are more likely to be from ethnic minorities, certain faiths or deprived backgrounds. There are also many social media platforms used by different age groups, and to provide education across all of these platforms would be considerably time-consuming, to the point of compromising practicability.
In addition, the pitfalls of social media should also be considered, such as the potential for cyber bullying and the potential detrimental effect on the patient–HCP relationship (Reidy et al, 2019). We must also consider the harms that could be caused by the content posted. For example, those in the DOC who are experiencing psychological distress may find that the sessions on eye health trigger anxiety around diabetes complications. Furthermore, peers sharing diabetes successes could trigger a sense of failure in some members of the DOC.
Conclusions
To our knowledge, this is the first example of an online healthcare response to a national crisis via social media. The interactive nature of Twitter means that the account was able to continually integrate feedback of PWD and be shaped by the community that naturally developed. CYP and parents were less represented than adults with diabetes, but they valued the account's content and felt included in the online community. Further research should consider the effectiveness of online support and how best to reach and engage CYP. The Diabetes 101 team was delighted to be awarded two Quality in Care Diabetes awards in October 2021, in the Collaborative Project of the Year category and the Unsung Hero category.